Back to School – Do You Know Where Your Kids Are?
When you're at work do you know where your kids are?
Back to school means new classrooms, new teachers, new grades, new schools, and time for a new family communications and emergency plan!
EMERGENCIES CAN HAPPEN AT ANY TIME.
In a major emergency cell phones can become useless, and schools and school districts might not be able to provide immediate information as to the location and well-being of your students.
Even if you have a plan in place, the start of the school year is the best time to reevaluate your family communications and emergency plans.
REPLENISH, REPLACE, UPDATE.
Check your child's Go Bag and make sure to refresh perishables and batteries.
Did you "borrow" first aid supplies from your kit last year? Do we go from children's meds to junior?
Does the flashlight work?
Have your children grown and its time to upgrade their Go Bag?
If your child rides a bike to school, check the tires, brakes, spokes, and maybe add an underseat bag with a flat change kit and extra emergency contact sheet?
A few reminders:
Update the names of teachers, make sure phone and text numbers are accurate.
Has your "backup" emergency contact changed? Physician? Switched cell carriers?
Has roadwork or construction changed your evacuation route or meet up locations? Are their any planned construction jobs (your local transportation dept. will know) on your planned route in the coming year?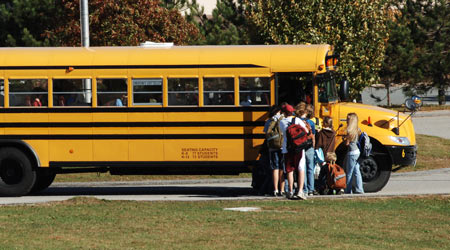 Ask the Principal for an updated copy of the school's emergency plan and familiarize yourself with the school's protocols in an emergency.
Is there a pre-set meeting place if the school is evacuated? Has this changed since last year?
If your kids ride their bikes to school, take a family bike ride along their evacuation path to your family meet up locations.
Can your child recite the emergency contact phone number by heart?
LIKE AN APPLE A DAY, A LITTLE PREPAREDNESS PLANNING GOES A LONG WAY!